Complete project of glue mixing and batching system
The company's products are metering rollers, glue adjustment systems, glue machines, direct combustion furnaces, self-priming powder homogenizers, viscosity adjustment systems, homogenizers, high shear kettles, RTO incinerators, waste gas incinerators, copper clad laminates, powders Conveying, high-speed dispersion emulsification, oven, filter, etc.
Metering roller
Direct combustion furnace
Introduction to the mixing system
In the current production process of front-end rubber mixing in the copper clad laminate industry, the ratio and mixing of raw materials is one of the main reasons affecting the quality of laminates. Our company's glue mixing system adopts automatic control scheme, relying on automatic procedures, to achieve the function of automatic proportioning of raw materials, conveying glue, and modulating finished rubber. At the same time, it is supplemented by a manual control system to achieve the effect of one backup and one use, that is, to improve the efficiency of production through the automatic control system, and to rely on manual methods to ensure stable production under abnormal conditions.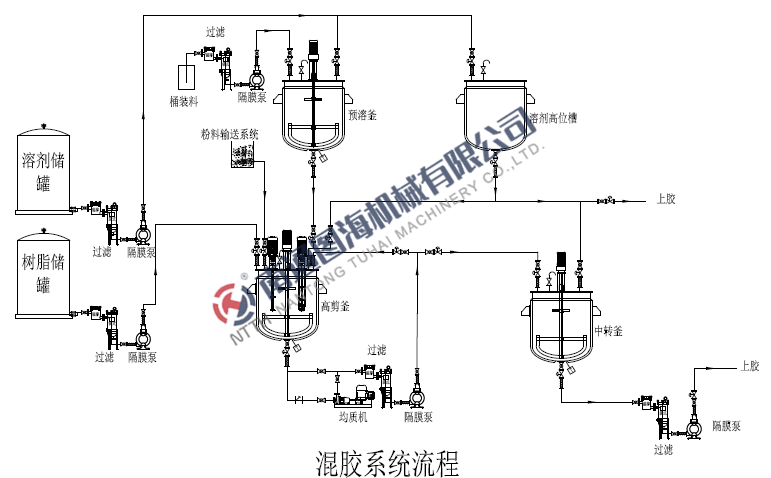 Functional features of the mixing system:
Temperature and level detection of tanks
Automatic control system of liquid level of rubber mixing kettle
Automatic weighing and metering control
It provides the drive and monitoring control of raw materials entering the corresponding storage tank
Automatic timing stirring and frequency conversion speed regulation control
Automatic proportioning control of process raw materials
All mixing operations can be done on the HMI
Record and history query of all mixing data
Design various reports according to user needs
Under normal working conditions, the system is fully automatic control
Manual control of the system during maintenance or special conditions
Cooperate with the production work of multiple gluing machines to complete the automatic control of material calling
Customer stories
Online Message
Our staff will contact you within 24 hours (working days), if you need other services, please call the service hotline:
86-513-86729888