The company's products are metering rollers, glue adjustment systems, glue machines, direct combustion furnaces, self-priming powder homogenizers, viscosity adjustment systems, homogenizers, high shear kettles, RTO incinerators, waste gas incinerators, copper clad laminates, powders Conveying, high-speed dispersion emulsification, oven, filter, etc.
Metering roller
Direct burning furnace
Application areas
The magnetic rod filter is composed of several permanent magnet materials with a special magnetic circuit design of strong magnetic rod group and stainless steel barrel, which is mainly used to separate the fine iron filings components in the liquid medium. Through the powerful magnetic field of the internal magnetic rod, the fine iron impurities in the material are effectively filtered, and the trouble of conduction of residual iron particles is relieved, so as to meet the required process requirements and improve the quality of the material.
Widely used in electronics industry, copper clad laminate, chemical, pharmaceutical, pigment, fuel, food, metallurgy, ceramics and other industries.
Product features
1) Small size, light weight, easy installation and operation
The magnetic rod group is bolted to the filter cover, and the iron impurities adsorbed on the surface of the magnetic rod can be cleaned by opening the cover. The top cover adopts quick-open form, which is easy to maintain and quickly reachable.
2) Standardization
All parts are standardized models, accessories and consumables have good versatility, and it is advisable to do procurement inventory.
3) Diversification
There are many specifications of magnetic rods, which can be combined according to the working conditions to meet the requirements of use.
4) Long service life
The magnetic rod can be used repeatedly after cleaning, and can work for 1-2 years under heavy load and 7-8 years under light load.
Technical parameters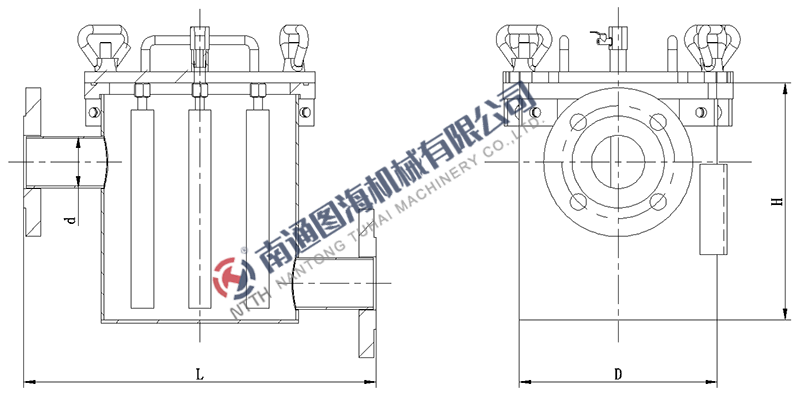 content

Technical parameters

Product model

Size(mm)

Number of rods (roots)

D

d

H

L

TH150/25

159

32

200

300

5

TH150/32

159

38

200

300

5

TH150/40

159

45

200

300

5

TH200/50

219

57

250

350

5

TH200/65

219

76

250

350

5

TH200/80

219

89

250

350

5

TH250/80

250

89

300

400

7

TH250/100

250

108

300

400

7

TH250/125

250

133

300

400

7

TH300/125

300

133

400

450

9

TH300/150

300

159

400

450

9

Inlet and outlet connection method

Flange interface, clamp interface, threaded interface (generally selected according to working pressure and water quality)

Filter material

SUS304、SUS316、SUS316L

Magnetic Strength Class (GS)

3000, 8000, 10000, 12000, etc

Magnetic rod diameter(mm)

16, 22, 25, 32, etc

Magnetic rod length(mm)

200, 300, 500, 1000, etc

Maximum operating temperature (°C)

80, 100, 120, 150, 180, 200, etc

Surface treatment

Matte, mirror-polished

Matching seal O-ring

Nitrile rubber (HN7448), silicone rubber (silicon), polytetrafluoroethylene, EPDM

remark

Can be customized according to customer requirements
Online Message
Our staff will contact you within 24 hours (working days), if you need other services, please call the service hotline:
86-513-86729888