The company's products are metering rollers, glue adjustment systems, glue machines, direct combustion furnaces, self-priming powder homogenizers, viscosity adjustment systems, homogenizers, high shear kettles, RTO incinerators, waste gas incinerators, copper clad laminates, powders Conveying, high-speed dispersion emulsification, oven, filter, etc.
Metering roller
Direct combustion furnace
Application areas
Bag filter is a new type of filtration system with a wide range of applications, suitable for electronics industry, copper clad laminate, paint and coating, ink and viscose, food and beverage (edible oil, soft drinks, beverages, beer, syrup, soy sauce, vinegar, etc.), water treatment (urban water supply, industrial water, seawater, river water, mineral water, oil field water injection, power plant condensate, ion exchange resin recovery), pharmaceutical, petrochemical, automotive, metal processing, chemicals, fine chemicals, textile industry and other industries solid-liquid separation.
Product features
1) Novel structure, simple and flexible operation, energy saving and high efficiency
The inside of the filter is supported by a metal bracket filter bag, the liquid flows in from the inlet, and the filter bag is filtered out from the outlet, and the impurities are intercepted in the filter bag, and the filter bag can be replaced or cleaned and continued to be used. This machine is simple to operate, when using, you only need to install the filter bag of the required accuracy level in the filter cartridge, check that the O-ring is intact, cover the top cover, and tighten the bolt to put into work. The top cover adopts quick-open form, which is easy to maintain and quickly reachable.
2) Standardization
All parts are standardized models, accessories and consumables have good versatility, and it is advisable to do procurement inventory.
3) Application diversification
A variety of performance filter elements are available to meet the requirements of different working conditions.
Technical parameters
content

Technical parameters

Product model

TH-1#DS

TH-2#DS

TH-3#DS

TH-4#DS

Standard classification

Unit 1

Unit 2

Unit 3

Unit 4

Matching filter bag

Bag 1

Bag 2

Bag 3

Bag 4

Cylinder size(mm)

F219×650

F219×1020

F133×420

F133×570

Matching filter bag size(mm)

F180×430

F180×820

F106×230

F106×380

Filter area(㎡)

0.25

0.5

0.056

0.115

Differential pressure(kg/C㎡)

0.07

Impurity content (kg)

2

3

0.5

1

Maximum Operating Pressure (Mpa)

1

0.6

Maximum flow rate (m³/h)

25

50

6

12

Weight(kg)

28

35

6

9

Standard import and export

DN50 flange

DN25 flange

Inlet and outlet connection method

Flange interface, clamp interface, threaded interface (generally selected according to working pressure and water quality)

Installation height(mm)

Approx. 500 (can be adjusted according to installation situation)

Filter material

SUS304、SUS316、SUS316L

Filtration accuracy (μm)

0.5、 1、 3、 5、 10、 15、 20、 25、 50、 75、 100、 150、 200

Maximum operating temperature (°C)

120

Surface treatment

Matte, mirror-polished

Matching seal O-ring

Nitrile rubber (HN7448), silicone rubber (silicon), polytetrafluoroethylene coating (PTFE), EPDM

remark

Can be customized according to customer requirements
Installation steps
a) Loosen the ring nut and remove the cover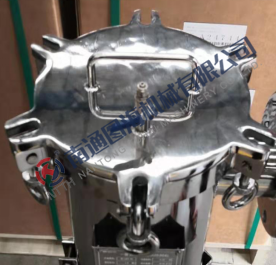 b) Insert the sealing O-ring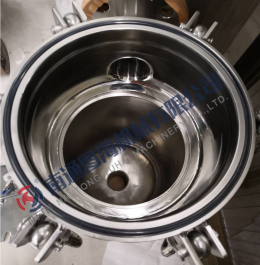 c) Put into the filter bag and filter bag pressure plate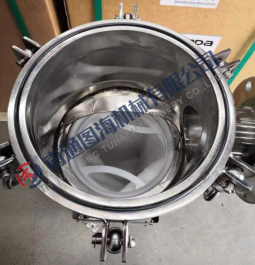 d) Restore the loosened ring nut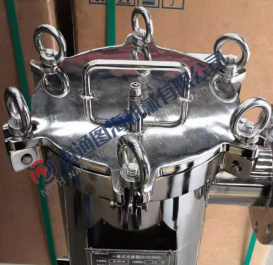 Online Message
Our staff will contact you within 24 hours (working days), if you need other services, please call the service hotline:
86-513-86729888